Website Design | Hosting | Domains | Logo Design | Fully Managed | Lasting Support
Websites For Home Inspectors
It's so important to have a reliable website that reflects you and your business accurately. We provide professional and affordable websites, specifically designed for residential and commercial inspectors. We understand the inspection industry and offer a hands-free solution, so you can focus on inspecting.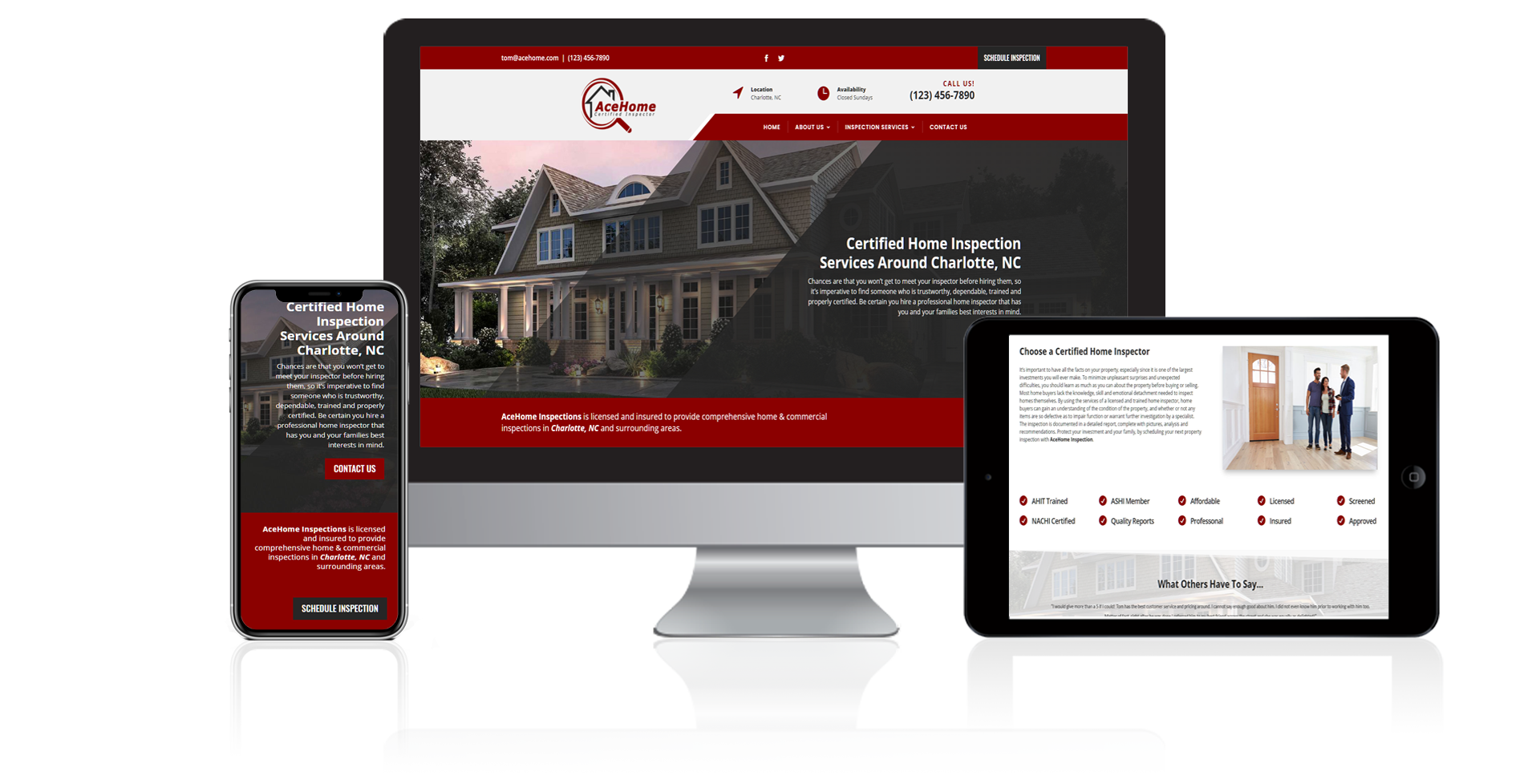 Professionally Designed Websites – Specifically Made for Home Inspectors
Elegant Style
Professionalism is a critical element to any business. Our website designs are built using WordPress and powered by the robust Divi theme.
Fast & Secure
We provide premium web hosting matched with reliable speed, maximum security and regular backups. Each site also includes an SSL certificate installed.
Fully Managed
We understand that you are busy with running a business. We will fully manage your web presence and hosting, so you can stay busy inspecting. 
Responsive Designs
Compatibility is very important in this current age of technology. All of our websites are built and designed to be mobile and browser friendly.
Affordable Pricing
Our service is simple and hassle free. We charge a one time setup fee, along with an easy (recurring) monthly payment plan.
Customer Satisfaction
We believe in treating others the way we would want to be treated. We are here for you every step of the way. Let us know if you have any questions.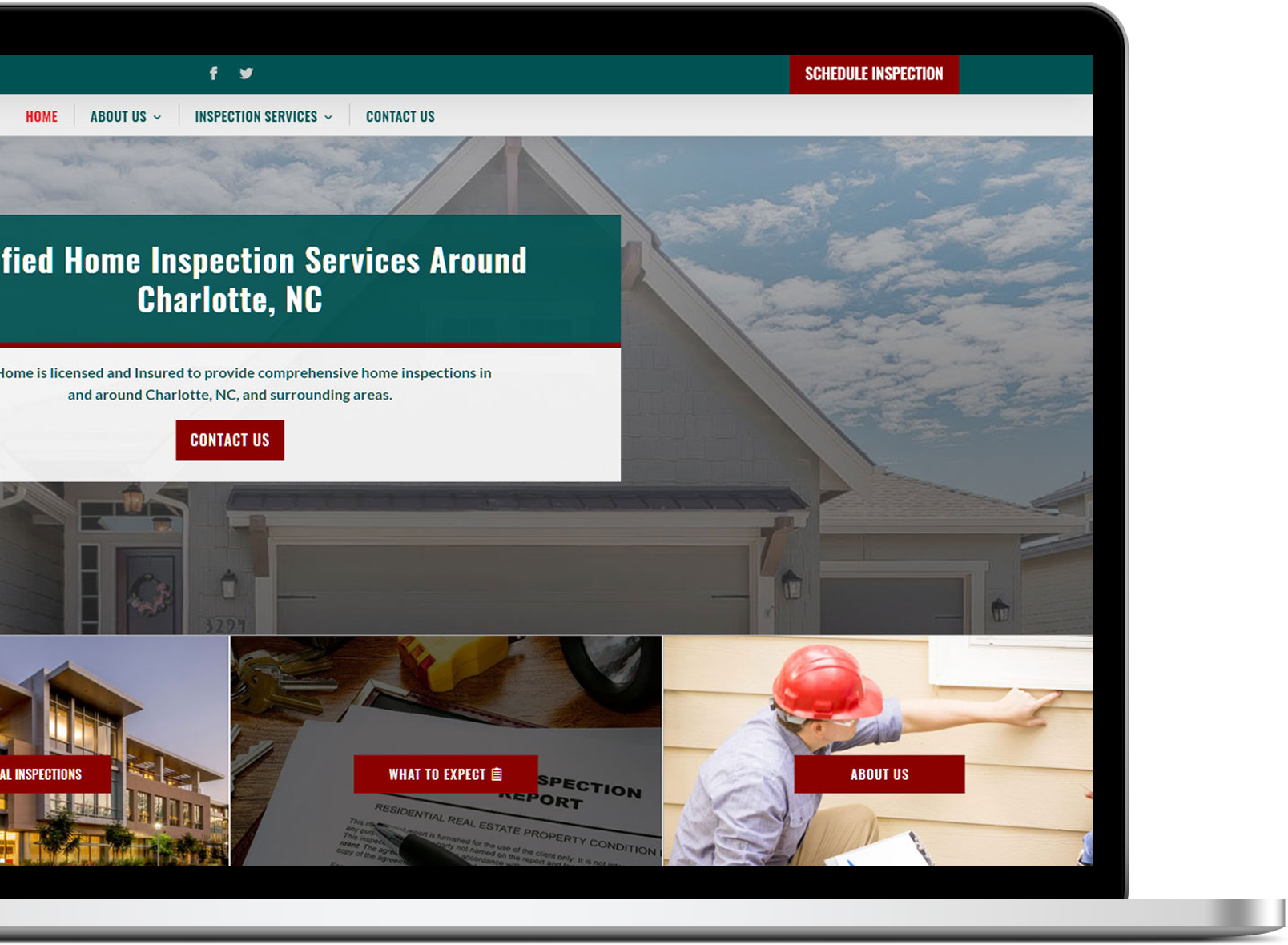 Customized For Inspectors
Our websites are designed 100% for home and commercial inspectors. You can choose from one of many customizable websites that we have already developed specifically for inspectors. We can tailor fit the site around your brand by changing the colors, photos, text and more. In doing so, we will help you to create a website that you are proud to call your own. Contact us today to get your new inspection website up and running!
Included with Every Website
Select one of our many websites designed specifically for inspectors. We will help to customize your website to reflect you and your business so that you can be proud to call it your own.
♦   Powered by WordPress & built with the Divi theme
♦   Beautifully designed with fluid movement
♦   Cross-platform & browser compatible
♦   Pre-written content specifically for inspectors
♦   Premium web hosting with reliable speeds
♦   Professional email associated with a purchased domain
♦   Regularly updated & maintained
♦   Excellent customer support » just an email or call away!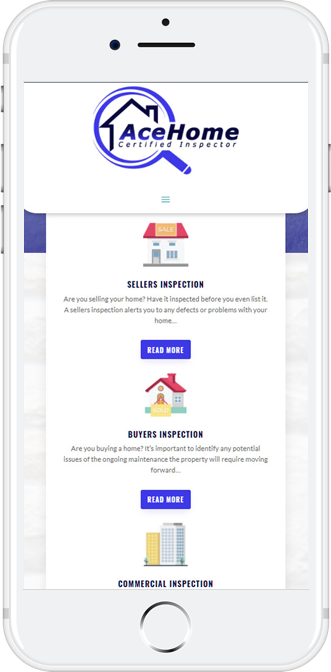 Inspector Designs Website Process
We know that you are busy trying to start and/or run your inspection business. We provide a simple, no-strings-attached solution for getting a professional website up and running quickly. If you have any questions, please let us know.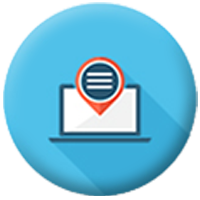 1. Collect Information →
Please complete our "Sign Up" form here on our website. Once we receive the sign-up form, then we will send you our website questionnaire and our website agreement.  When completed, we will charge the initial (one-time) setup fee.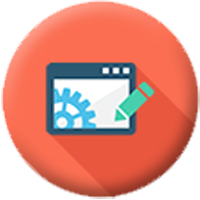 3. Customize Website →
We will take the information provided from the questionnaire to customize your website around your brand, services, and more. Once we are finished, we will provide you with a private link to view and approve your new site.
4. Go Live →
After your new website has been approved, we will launch it to the domain of your choice. We can use an existing domain or we can help you find one. We can also provide you with a professional email linked to your domain.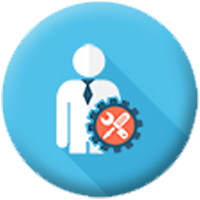 4. Continued Support →
Your first monthly or annual service payment will be charged the day your website goes live. Once your site is live, we will provide hosting, regularly update the website, and make any changes or additions you may need.
Setup Fee
One Time - Website Setup
WordPress Built Website

Pre-written Content ©

Website Security (SSL)

High-Resolution Images

On-Page Indexing Optimization

Schedule Inspection Form

Mobile/Browser Optimization
Monthly Payment
Monthly - Hosting & Maintenance
Fully-Managed Plan

Easy Monthly Payment

Specialized for Inspectors

Excellent Customer Support

Fast & Secure Hosting

Monitored & Updated Regularly

Ability to Add Content Later
Contact Us
Get In touch with us below,
Email us, or give us a call.
Whether you are ready to sign up for a new website or just have questions, we are ready to help!
Feel free to contact us below, or by phone or email.
All required fields are marked with an asterisk (*).